11 May 2023

| Posted by:

chadmin

St. Philomena Parish is happy to once again host training for the Catechesis of the Good Shepherd religious education program. This year's courses and dates are:
Level 1-A: cost is $250, class meets August 6 (1:00-5:00 p.m.) and August 7-11, 2023 from 8:30 a.m. – 4:00 p.m.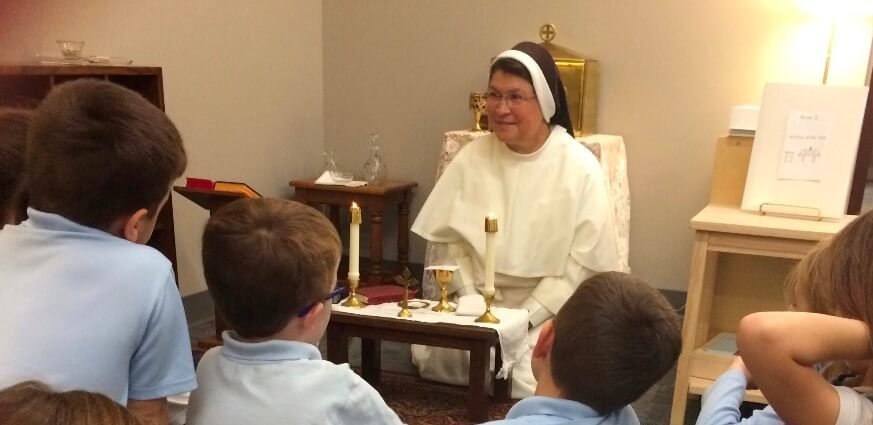 Training will be held in our Parish Center, adjacent to our church, at 1000 W Albany Ave., Peoria IL 61604. We are blessed to have Sister Mary Rose Bingham, O.P. as our formation leader. The cost per registrant is $250 for Level 1-A. For someone who is already certified but would like to audit the class as a refresher, the fee per registration is $75. Participants will receive a certificate from the National Office of the Catechesis of the Good  Shepherd upon completion of Catechesis of the Good Shepherd training  and observation requirements.
Click here for online registration. 
The Catechesis of the Good Shepherd (CGS) is an approach to the religious formation of children grounded in Sacred Scripture, Catholic Doctrine, Liturgy and Prayer. Themes are presented in such a way as to develop the religious potential present in every child: the capacity to love and be loved and be in a deep relationship with God. CGS was developed by Dr. Sofia Cavalletti and Gianna Giobbi in Rome in 1954 and has spread throughout the world.  It is used in homes, parishes and schools.
For details about the course, including recommended materials and course description, click here. To visit the website of the United States Association of the Catechesis of the Good Shepherd (CGSUSA) for additional information and resources, go to www.cgsusa.org/. 
Coffee and water will be provided each day and there will be time for a lunch break. You are welcome to leave to eat, or bring a lunch and eat here.
Categories
Popular Posts
Tags cloud