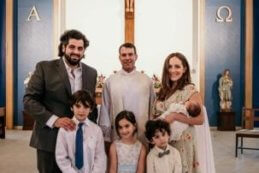 Is anyone among you suffering? He should pray. Is anyone in good spirits? He should sing praise. Is anyone among you sick? He should summon the presbyters of the church, and they should pray over him and anoint him with oil in the name of the Lord, and the prayer of faith will save the sick person, and the Lord will raise him up. If he has committed any sins, it will be forgiven. James 5: 13-15
Care and Counseling
Fr. David is available to pray with you and offer counsel throughout the blessings and challenges of life. Please contact him any time to set an appointment. All counseling is confidential.
view more
Challenges in a relationship, marriage, family life, parenting, finances. Grieving the loss of a loved one. Recent diagnosis of an illness, disease,  infertility, miscarriage, or poor prenatal diagnosis. Struggling with a new phase of life. Desiring to return to the Church or Sacraments. Discerning an important decision with the Lord. Struggling with forgiveness, anxiety, or discouragement.
I am interested in meeting with Fr. David.