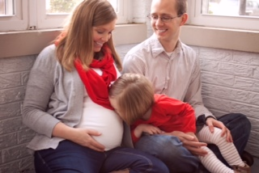 "Illuminated by the faith that gives her an understanding of all the truth concerning the great value of marriage and the family and their deepest meaning, the Church once again feels the pressing need to proclaim the Gospel, that is the "good news," to all people without exception, in particular to all those who are called to marriage and are preparing for it, to all married couples and parents in the world."
St. John Paul II      Familiaris Consortio
St. Philomena Fertility Care
What the Church says about Family Planning
Catechism of the Catholic Church 2366-2367: Fecundity is a gift, an end of marriage, for conjugal love naturally tends to be fruitful. A child does not come from outside as something added on to the mutual love of the spouses, but springs from the very heart of that mutual giving, as its fruit and fulfillment. So the Church, which "is on the side of life" teaches that "each and every marriage act must remain open 'per se' to the transmission of life." "This particular doctrine, expounded on numerous occasions by the Magisterium, is based on the inseparable connection, established by God, which man on his own initiative may not break, between the unitive significance and the procreative significance which are both inherent to the marriage act."
Called to give life, spouses share in the creative power and fatherhood of God.
"Married couples should regard it as their proper mission to transmit human life and to educate their children; they should realize that they are thereby cooperating with the love of God the Creator and are, in a certain sense, its interpreters. They will fulfill this duty with a sense of human and Christian responsibility."
Creighton Model of Family Planning
Through one-on-one appointments set up through St.Philomena Fertility Care, you will be trained in the Creighton Model of Family Planning.
Please contact me about Family Planning.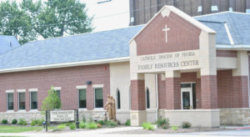 The Family Resources Center is a source of support for families in our diocese. Located at 415 NE Monroe, Peoria The Family Resources Center offers thousands of educational and entertaining programs that deal with respect for God's most precious gifts of life and family.  These audio visuals and  books are available on free loan to the community and more are being added to the library daily. The Center also offers a speaker's bureau, and referral services to other respect life agencies helping the hurting.
I'd like a catalog of resources available.