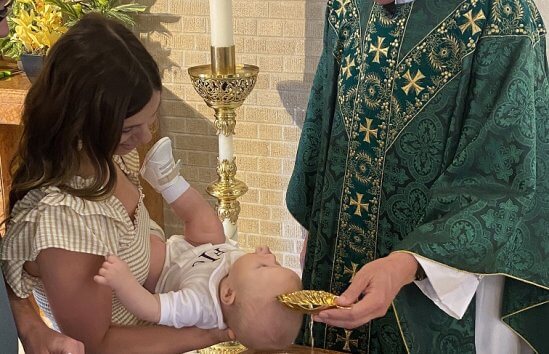 Baptism
Baptism is the basis of the whole Christian life, the gateway to life in the Spirit and the door which gives access to the other Sacraments.
Baptism is birth into new life in Christ, we become adopted sons and daughters of God the Father, a member of Christ and a temple of the holy Spirit.
All sins are forgiven, original sin and personal sins.
We become Christian, sealed with an indelible spiritual mark on the soul of belonging to Christ.
Children: Since the earliest times, Baptism has been administered to children, for it is a grace and a gift of God that does not presuppose any human merit; children are baptized in the faith of the Church.
Renewal of Baptismal Promises: For all the baptized, children or adults, faith must grow after Baptism. For this reason the Church celebrates each year at the Easter Vigil the renewal of Baptismal promises.
Growing as a Christian: For the grace of Baptism to unfold, the parents' help is important. So, too, is the role of the godfather and godmother, who must be firm believers, able and ready to help the newly-baptized, child or adult, on the road of Christian life. The whole community bears responsibility in the development and safeguarding of the grace given at Baptism.
Preparation and Scheduling
The Sacrament of Baptism is available every Sunday after the 9am or 11am Mass.
For non-baptized adults, our Rite of Christian Initiation, (RCIA), classes serve as preparation for baptism. Preparation can also be done one-on-one.
For children, first-time parents meet with our pastor or deacon prior to the birth of your child for preparation. To set an appointment or speak to the pastor about scheduling a baptism, contact the parish office at 309-682-8642 or parish@stphils.com.
Choosing godparents
One man and one woman are chosen by the parents to serve as godparents.
One of the two godparents must be a Catholic in union with the Catholic Church as a Confirmed Catholic.
The Church allows for Christian Witnesses who are not Catholic to stand in the place of one of the godparents.
If your chosen godparent cannot participate on the day of the baptism, then you may elect a proxy, to profess the faith on behalf of the godparent.
Additional Information
More than one baptism may take place each Sunday. However, each child receives the sacrament separately, as families are brought to the baptismal font individually.