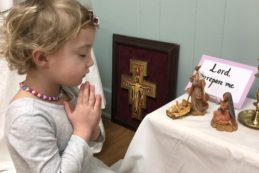 "And whoever receives one child such as this in my name receives me."    Matthew 18:5
Our children's ministries provide opportunities for their baptismal graces to flourish as they continue to grow in relationship with God.
Sunday Faith Formation Classes
Sunday Faith Formation classes offer formation for our parishioner children in preschool - 8th grades who attend a public, non-Catholic private school or are home schooled. Offered September-May, Sundays 10:00-10:50 a.m. To register your child(ren), click on View More to the right and scroll down to the registration form. We will follow up with you once the registration is received.
view more
When We Meet
Classes meet at the Parish Center for Pre-k – 4th grades and St. Philomena School for 5th-8th grades. The program is offered September-May from 10:00 – 10:50 a.m. Early registration is in May, but additional registrations are accepted in August. Click here for the 2019-20 schedule. 
Fees
For 2019-20, the fees are $40 for the first child, $30 for each additional child in a family. If your child is in a sacramental year (2nd & 8th grades) there is also a $50 fee. If fees are a concern for your family, please contact the office.
Program
Our curriculum is rooted in the knowledge that God invites each of us into a relationship with Him through the Scriptures and we respond through Sacraments. The Catechesis of the Good Shepherd curriculum is offered for our children pre-k through 4th grades. We Are Disciples, YOUCAT, and a Bible are utilized for 5th-8th grades. All of our teachers (catechists) are volunteers from our parish. 
2nd Grade students are finalizing their preparation for the sacraments of First Confession and First Communion. The students participate in a "Jesus Day" retreat held during the week prior to making the sacrament. The retreat includes a tour of the church, an opportunity to go to confession, crafts, baking bread, and a special lunch. A Parent meeting is held prior to the reception of the sacraments to allow the whole family to prepare together.
5th Grade students have the opportunity to become altar servers (boys and girls) beginning in 5th grade. Training sessions are required. The altar server schedule is prepared by the parish office.
8th Grade students preparation for the sacrament of Confirmation and includes a special enrollment Mass in January and an all-day retreat held off-campus just before the sacrament is received.
Resources
Saint of the Day New Advent: Information about Catholicism Saints and Angels: Lots of biographies!
Children's Chapel and Nursery
Our church has both a children's chapel and nursery to welcome our youngest members of the parish.
view more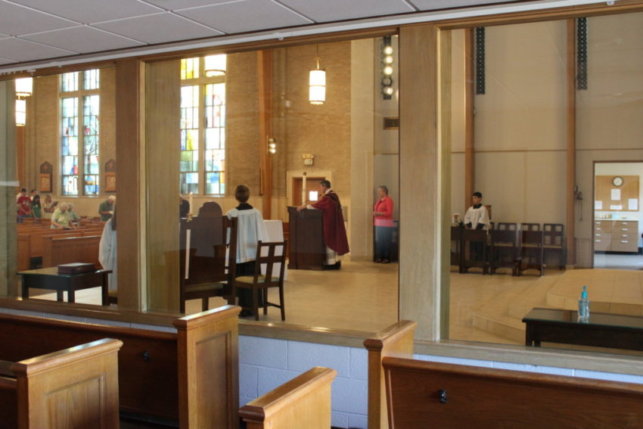 The children's chapel (pictured), formerly called the cry room, is located to the right of the sanctuary allowing our little children to see and hear the holy Mass. Behind the children's chapel is our church nursery. The nursery welcomes children under the age of two with the supervision of a parent the freedom to move, crawl, toddle, and explore in quiet play while listening to the Mass. The nursery also has a changing table and nursing area for mothers.
Sign and Sing StoryTime with Communication Junction (Infant-Toddler)
Join us in the parish center lower level toddler room as Communication Junction presents Sing and Sing StoryTime for children: infant-4 years of age. Thursdays, 8:45-9:15 a.m. Our winter 2020 sessions will be January 16-February 27 and March 5-April 16 (no class on March 26 or April 9). Click on View More to the right to bring up the registration for this activity.
view more
Fee for the first session is $25 and $20 for the second session. Fee can be paid on or before the first class of the session. We accept exact cash, check or online payments. For online payment, click here. Please register in advance by using the form below. 
3 Year Old Preschool
St. Philomena Parish offers a 3-year-old Montessori preschool on Tuesday, Wednesday, and Thursday from 8:00-11:00 a.m. and an afternoon program 12:00-3:00 p.m. Join us for an informational parent meeting for the 2020-21 school year on January 30, 2020 in the St. Philomena parish center banquet room, 6:30-7:30 pm. Meet our Director, Jenny Witt; Head Teacher, Jennifer Williams; and Assistant, Katy Matarelli as we overview the program, provide a tour of our classroom and distribute admission packets. Fill out the form below to be put on our informational list. Filling out this form does not register you for the program, but rather shows us your interest. As long as your family is registered at St. Philomena Church and we have your child's information (including birth date) you will receive our initial mailing.
view more
Partners in Faith
We are happy to subscribe to Partners in Faith, a publication of InFaith Publishing Group. Partners in Faith is designed to give Catholic parents the practical help and support they need to raise faithful Catholic children.
view more
Every issue of Partners in Faith is filled with actionable ideas parents will use to build a Christ-centered family life, to increase in knowledge of the Catholic faith and grow in devotion to the sacraments . . . all in friendly, everyday language that's easy to read and absorb in just a few minutes.  (from www.infaithpublishing.com)