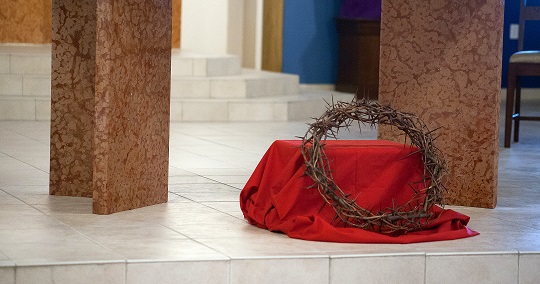 3 Apr 2020

| Posted by:

chadmin

Father David has posted a video to our YouTube channel and Facebook page. Please click on either word in the first sentence to go directly to the message or click either icon at the top of this page.

Holy Week: Listed below are the live video times. Videos will also be available for playback. All will be shown on both YouTube and Facebook. Click either icon/logo at the top of this page to view live or on playback whichever site you choose. Readings can also be found on usccb.org (United States Conference of Catholic Bishops). The Magnificat is also a good source.
Palm Sunday, April 5, 2020
Confessions, April 6, 7 & 8 (no confessions during the Triduum)

The sacrament of reconciliation will be offered on Monday, Tuesday and Wednesday from 5-6pm by driving up to the covered drop off at the parish center. Please remain in your car.

Holy Thursday, April 9, 2020
Good Friday, April 10, 2020
Holy Saturday, April 11, 2020

Easter Sunday, April 12, 2020
Holy Week Retreat

Our school and Sunday Faith Formation families will receive information on a retreat to do at home. We are sharing those materials with everyone as the material can be useful for all of us regardless of age:
Divine Mercy Sunday is the Sunday following Easter Sunday, which is April 19, 2020. Here are some materials to help you pray the chaplet and learn more about Divine Mercy Sunday and sealing your doorpost. While we cannot be together for Divine Mercy Sunday, the information on the FORMED video is helpful history and interesting to watch.
If you have questions about anything above or anything going on, or if you need help emotionally or physically, please reach out to Father David or our office. We are here for you. (309-682-8642, parish@stphils.com, frdprichardson@stphils.com)
Categories
Popular Posts
Tags cloud