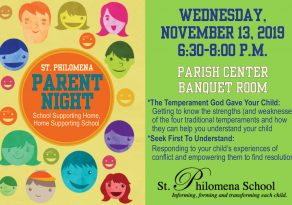 Parent Night 2: Problem Solving in Social Situations
Join us for our second St. Philomena Parent Night on Wednesday, November 13, 2019 from 6:30-8:00 p.m.  Our topic will be "Teaching Your Child Problem Solving in Social Situations." We will have wine and cheese, door prizes and takeaways, practicals and discussion. Babysitting will be provided – Please RSVP at https://forms.gle/Rzaq7RNwr4t4EGgQ7  We hope to see you there!
Welcome to Tiger Tales, our new podcast
Please take some time to listen to our new podcast, Tiger Tales. Each month Mr. Dippold will record a podcast to keep us updated on what is happening on campus, shout outs to our students and staff, curriculum updates, faculty guests and what is happening in education.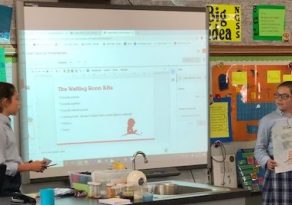 6th Grade Service Project
The 6th graders from St. Philomena School are reaching out to St. Jude Children's Research Hospital to share our time, talent and treasure in service to their families. The hospital is in need of Waiting Room Kits for the kids and Care Bags for their families. They have asked us to collect and package the following items.
Waiting Room Kits: Crayola crayons, markers, colored pencils (small sizes please); stickers and drawing paper; color books with the themes: Superheroes, Action Figures, Animals
Care Bags (travel sizes please): shampoo/conditioner, disposable razors, shaving cream, toothbrush, toothpaste, adult hand lotion, combs/brushes, lip balm, manicure set, earbuds, chap-stick, hair ties,
We will collect items Monday, October 14 through Sunday, October 27. Please put your items in the special, marked collections boxes in the back of church or send to school with your student. Thank you in advance for supporting the St. Jude Kids and their families.
—St. Philomena 6th grade students and teachers, Mrs. Anne Cusack and Mrs. Sue Tony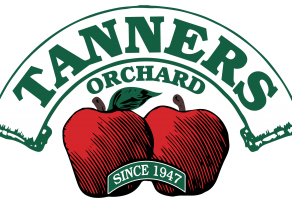 Tanners Apple Cider Donuts
For the first time ever, Tanners Orchard is offering this fundraiser to help schools earn money and St. Philomena School will be one of the first to participate. You can order delicious Tanner's Apple Cider Donuts by the dozen and pick them up to enjoy with your family in November. Orders are due November 4 and pick up will be November 14 from 2-6pm in the Parish Center.