What Is Invest In Kids?
"Illinois enacted the Invest In Kids Scholarship Tax Credit Program in 2017. This program offers a 75 percent income tax credit to individuals and businesses that contribute to qualified Scholarship Granting Organizations (SGOs). The SGOs then provide scholarships for students whose families meet the income requirements to attend qualified, non-public schools and technical academies in Illinois." – Illinois Revenue,  Learn More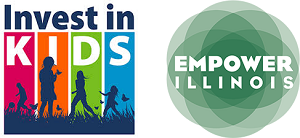 The SGO that we work with is Empower Illinois. You may often hear these two terms, Invest in Kids and Empower Illinois, used interchangeably. Basically, Invest in Kids is the scholarship program, Empower Illinois is where you donate the money for the scholarships.
"The Invest in Kids Scholarship Program has been a great benefit to our community. Year over year the generosity of our donors to provide funds for all our families to attend St. Philomena has been incredible to see. Because of these donations, the needs of those that apply have been met which has provided peace of mind to our families choosing a quality Catholic education. " – Mr. Jack Dippold, Principal
"The Invest in Kids State Tax Credit Law has proved to be a true blessing for our families and our school. I personally donate each year because I know the funds will benefit our families and the 75% state tax credit allows me to multiple my gift. I am hopeful many more will participate in the program with donations that allow our families to receive the needed tuition assistance." – Fr. David P. Richardson, Pastor
Remove the Sunset
(April 28, 2023) — The Invest in Kids State Tax Scholarship Program has been a huge benefit to our school family. The State of Illinois is currently debating the budget. It is important that Invest in Kids be encouraged to remain a scholarship option for our families. Please join us as we encourage our State lawmakers to remove the sunset of Invest in Kids which will end in December 2023 without extension. The link below allows you to easily send a stock letter to your legislator or to draft your own message. Since the inception of Invest in Kids, St. Philomena students have received $1,071,119 through 343 individual scholarships over the six years. Please take a moment to fill out the form by clicking here.
Donors
13
Scholarships
$70,204

Students awarded scholarships by Empower Illinois
29