Adoration Chapel Visits
(Dec. 6, 2022)  During the Season of Advent, all junior high students are making a weekly visit to the Adoration Chapel. During a recent visit, they prayed with the Sunday Gospel and meditated on the virtue of hope. We are grateful to have access to a chapel on our campus and to be able to offer this time with Jesus in the Blessed Sacrament to our students.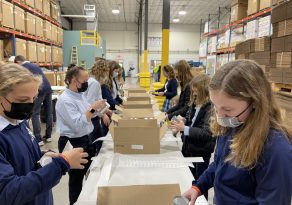 7th Grade Stewardship
Seventh graders are tackling the issue of hunger this year as their service project. They collected canned goods and other non-perishables in November and then delivered them to New Hope Apartments. While there they learned about what happens at New Hope and how their efforts help the community. Also in November they spent a day at Midwest Food Bank where they packed 4800 cans in an hour. Students then wrote reflections on service in their community. Below is a poem by 7th grader, Marcus Ice.
 In One Day
In one day
Many people touched
Feeding the people who need it  
In one day
Putting smiles
On the hurt
And struggling
In one day
Putting your feet
In others shoes
Who are more unfortunate 
Than you
In one day
A deed is made
And our service dedicates us
To help them
In one day
Lives are changed
Emotions, happy, joyful, surprised
Are all glowing
In one day
The sun lights up
Like the people
We have helped
In one day
The work is done
Surprising the unfortunate
In one day.